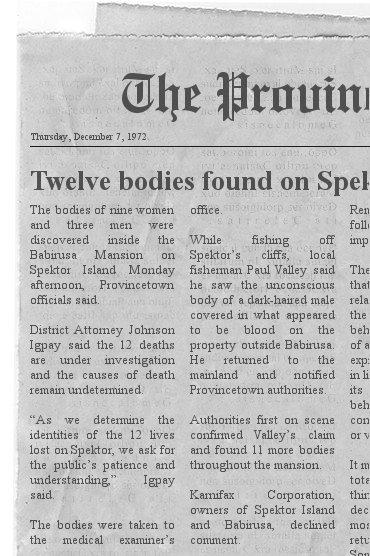 Twelve bodies found on Spektor Island

The bodies of nine women and three men were discovered inside the Babirusa Mansion on Spektor Island Monday afternoon, Provincetown officials said.
District Attorney Johnson Igpay said the 12 deaths are under investigation and the causes of death remain undetermined.

"As we determine the identities of the 12 lives lost on Spektor, we ask for the public's patience and understanding," Igpay said.
The bodies were taken to the medical examiner's office.
While fishing off Spektor's cliffs, local fisherman Paul Valley said he saw the unconscious body of a dark-haired male covered in what appeared to be blood on the property outside Babirusa. He returned to the mainland and notified Provincetown authorities.
Authorities first on scene confirmed Valley's claim and found 11 more bodies throughout the mansion.
Karnifax Corporation, owners of Spektor Island and Babirusa, declined comment.